Motor Trend Certified Used Vehicles For Sale In Union NJ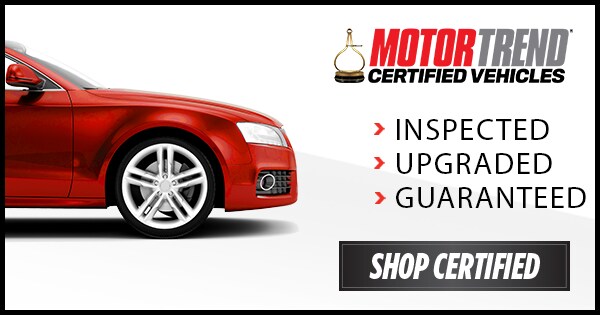 Are you looking for the best used cars for sale in the East Brunswick area?
Buying a certified used vehicle from Open Road of Subaru that's backed by Motor Trend and is upgraded with a comprehensive warranty and value-added benefits gives you the ultimate peace of mind.
Open Road Subaru is proud to offer MOTOR TREND CERTIFIED pre-owned vehicles.
When you consider purchasing a Motor Trend Certified used vehicle you now have the option to buy a like-new car with new-car peace of mind, all at a significantly lower price.
MOTOR TREND Certified goes even further and upgrades your ownership experience with additional benefits you won't find anywhere else.
These benefits to you include:
POWERLIFE - Just follow your manufacturer's maintenance schedule and recommended service visits and your POWERLIFE will pay for any powertrain repairs for as long as you own your vehicle.
EASYCARE KeyCare - Losing a key can be very expensive. We'll provide key replacement for one year and help you get your lost key back. Plus, 24/7 lockout protection service.
Complimentary Car Wash - Every time your vehicle is in for service.
$500 Trade-In Value Guarantee - Have all your services performed with us and we will guarantee your vehicle will be worth at least $500 more at trade-in time.
Best Value Guarantee - Find a lower price on the same car with the same benefits and options and we'll refund 100% of the difference/
Warranty Repair Coverage
Paintless Dent Repair
All part of your Open Road of Subaru Best Value Guarantee
Plus, you get the added assurance that your Motor Trend Certified Vehicle has been:
INSPECTED thoroughly inspected by a certified MOTOR TREND technician

UPGRADED with a comprehensive warranty and exclusive benefits from EasyCare*

GUARANTEED to be the best value or we'll refund the difference.
Buy your next used vehicle with confidence at Open Road Subaru knowing it has been certified by Motor Trend!